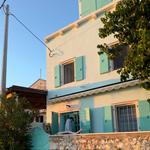 More
Directly by the sea • three bedrooms • six beds • Kitchen • Living room • Shower / toilet • Shower Towels and duvet covers available • Off-season • Main season from 15.06. to 10.09
Price from €120.0 per night.
Konoba
Directly by the sea • building in the back of house "More" • two bedrooms • open living and kitchen area • Shower Towels and duvet covers available
Price from €60.0 per night.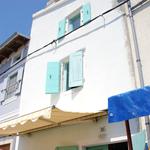 Sunce
The house is aprox. 60 m away from the beach. On the ground floor is the living room with TV, dining area and kitchen with a dishwasher. On the 1st floor are a bedroom with three beds and the first bathroom with two sinks, a shower, bidet & WC. On the 2nd floor is a bedroom with four beds, a bathroom and a roof terrace. Shower towels and duvet covers are provided.
Price from €70.0 per night.
Blaues Apartment
Apartement with four beds (zwei bedrooms), aprox. 120 m from the beach, small bebles perfect für small children. Kitchen, bathroom with toilet, a big terrace with seaview & air conditioner.
Price from €70.0 per night.