The Island
Unije – the unique holiday experience in the Adriatic Sea.
Unije Island with its mild Mediterranean climate is situated in the northern Adriatic bay of Kvarn in the Losinj archipelago. The main holiday season from April to October offers constantly pleasant temperatures and a varied unspoilt countryside in which to relax and enjoy peace and quiet (provided your mobile telephone is switched off) in an area of unspoilt nature. Unije is traffic-free.
The friendly town of Unije provides restaurants, guest houses and private accommodation, boat moorings and rambling trails. Children will soon find playmates and many opportunities for fun and games. You, too, will soon be in raptures about Unije!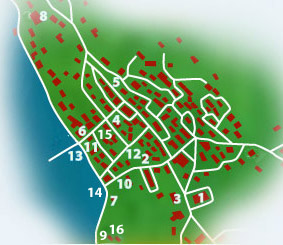 St. Andreas Church
Post Office
School
Grocery Store
Bakery
Restaurant Unije
Taverne Kod Joze
Pension Unijana
Restaurant Palmira
Ice Cream Café, Pastry Shop Unije
Gallery Torac
Travel Agency Arbit
Jadrolinija
Air Speed Indicator
Tourist Agency
Old Oil Factory